Lynelle Parker shares one of her favourite stop-overs en route to Thailand - Singapore
Singapore is on the "milk run" from Aus if you are en route to Malaysia and Thailand. It was going to be our first significant stop-over since Darwin, and we were not going to miss it for quids. But the Singapore we visited this time was very different from the Singapore we remembered when Lloyd and I last visited in the early 70's. Back then we wore Levi jeans and long hair, and we were always broke. Singapore might have changed but I couldn't help noticing we hadn't - we were still wearing jeans, both needed a hair-cut and now we own a boat, which keeps us practically broke.
We had just spent four wonderful days in the calm waters of the Kumai River, and with that adventure behind us now, we couldn't wait to turn west under Kalimantan and then north towards Singapore - our favourite stop so far.
From Kalimantan you can hi-tail it straight to Singapore or you can dilly-dally as long as you like doing a few overnighters, stopping off at the island groups on the way and allowing time for the traditional "Over the Equator Party". From the bottom of Batam Island it's a long day sail up the Riau Strait, but get the tide on your side and it's a sling-shot ride out of the Strait and around the top of the island to Nongsa Point Marina. It's from here that you can sit back in comfort for a few days and plan your attack on Singapore and its notorious strait.
Once you are squared away at Nongsa Point you have a few choices on how to plan your visit to Singapore. Most cruisers leave their yachts at Nongsa Point marina and take the "very fast" ferry ride over to Singapore to get a first hand look at the strait and check out the marina facilities available, before returning to Nongsa to take their yachts over for a more extended stay on the island. As new kids on the block we choose this option, but for some of our more seasoned cruising friends, this was just another day at the office, and they simply threw their ropes and made a B-line for Singapore.
From the bridge deck of the ferry you get a pretty good look at the traffic separation scheme in one of the busiest ports in the world. The ferry lands at the Tanah Merah Ferry Terminal and from here it's a taxi ride to the train station and a train ride into the city. With over 15,000 taxis on the island nobody waits long for a ride. Public transport is just a breeze in Singapore. The train system or "MRT" (Mass Rapid Transport) as it is affectionately known is cheap, clean, fast and air-conditioned and certainly one of the things that Singapore can brag about. The pushing and shoving at peak hour will get right up your snout and you can forget about getting a seat - it won't happen, but the trains travel so fast it doesn't really matter anyway.
During our few days in Singapore before returning to Nongsa Point marina to collect our boat we discovered that the island now boasts several very nice marinas, some with haul-out facilities, chandleries, bars, restaurants, and let's not forget the complimentary poolside robe and towel service, a little over the top compared to our marina back home, but nevertheless a lifestyle we could certainly accommodate for a week or two.
Getting Chappie over the Strait to Singapore wasn't as easy as jumping the fast ferry. Make no mistake Singapore Strait is busy. We had 32 blips on the radar, and a quick glance around the horizon told us they were all bigger than us. We took the advice of those that had gone before us, that is, cross at right angles to the traffic and pass behind everything!! A walk in the park you might think and it could have been if we hadn't hit a submerged object just as we were about to make our crossing. First came the thud, and then the motor stalled. Next came that look I've seen on Lloyd's face before. The one that says "I think we're in a bit of strife!" And I know exactly what to do when I see that look - go below and pretend I'm doing something useful...... and its just as well I did, we were taking water. The deep-sea seal had momentarily opened up and allowed water into the boat. As if we weren't nervous enough about the prospect of crossing one of the world's busiest shipping lanes, we now looked like we might sink. Fortunately the seal took up again as quickly as it had let go, and we were soon under way again.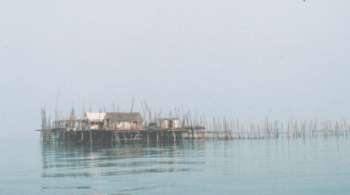 New legislation passed in May 2002 requires that all foreign yachts and pleasure craft carry out their immigration clearance on board and at sea. So once safely over the shipping lanes the first stop is at one of the two Immigration Anchorages for your clearance into the country. On arrival we called Immigration on Ch 74 and were immediately approached by the officials in their barge-like vessel. It was pitching up and down with huge black tyres suspended from its port and starboard sides. I clearly remember Lloyd's words as they came alongside. "It might have been simplier to sink on the southern side of the channel than be hit by this thing". But they are obviously very good at what they do, coming alongside to within an arms reach to collect our papers. The whole procedure takes about 5 minutes and pretty soon we were underway again with our fourteen-day pass stamped in our passports. We'd decided to stay around at Raffles Marina on the western shore, some 25nm away, and with ships moving in and out of their designated anchorages all around us we felt like we'd been pretty well boxed around the ears by the time we tied off at the marina.

At right... Loyde and Lynelle Parker of

SY "Chappie"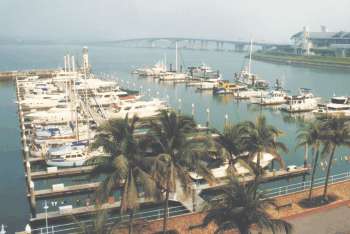 Where to stay.....
If you decide to leave your yacht at Nongsa Point and visit the island via the fast ferry, accommodation is easy to find, you can pay as much as you like, and you'll pretty much get what you pay for. The equivalent of $50-70 Aus dollars will get you a comfortable room with air-conditioning, attached bathroom and TV. Of course if you have a wad in your wallet you just can't wait to part with, Raffles Hotel will let you stay on as long as you like in one of their little cheapies for about AUS$650 a night. If you are intending to stay on your boat, check out the facilities that best suit your needs. Even though Raffles Marina is about an hour out of Singapore city proper by bus and MRT, we choose to stay there. The facilities were very good, movies, restaurants, chandlery, and a pool (complete with the complimentary fluffy white towels).Food for thought.....
So what does one do in Singapore for fourteen days you might ask? Well, eating is going to take up a considerable amount of your time because in Singapore fun is literally "dished up". We soon discovered their national pastime, and by the time we had left Singapore we were carrying our fair share of excess baggage!! It's at the hawker centres where you will find a veritable feast of Chinese, Malay, Thai and Indian treats. The amenities are basic, the atmosphere is bustling, the prices are unbeatable and the food is authentic and tasty. We had no idea what we were ordering sometimes, but if it looked good on someone else's plate, we used the international gesture that is universally understood - look and point.
If you want to have a smiling waitress sashay around your table and talk you into ordering a peel-off-the-bone Caroline Honey Baby Back (whatever that is??) you will pay a little more than we did for our meals.

Shop Talk....
If eating is the national pastime for Singaporeans, then shopping must come in a close second. The shopping centres are open from about 10am to 9pm daily and if you have never "shopped till you dropped" you can do
it right here. If you are feeling pretty cocky that you
haven't spent too much do ra me since leaving Aus, be careful, you can really drop a bundle in this town. You name it - Singapore has it for sale. The character building stuff is trying to find it. But because this is the obvious place to buy new boat electronics, computers, digital cameras and all those "toys" we don't seem to be able to live without, it's worth putting in the time here.
Orchard Road is the main shopping strip and while your man is out buying electronics any girl worth her salt can do some serious spending in this neck of the woods. If you like bookshops you will love Borders, at Wheelock Place. Back home you'd be in serious strife for standing in the newspaper store reading the latest copy of your favourite magazine, but here they actually encourage browsing and to prove it they provide you with seating to do just that. It's quite a "novel" idea really. And when you run out of shops to browse, look for the arrow in some of the shopping complexes that amused us most - the sign under the arrow simply says "MORE SHOPS".
So much to see and do.....
Our favourite visit was Jurong Bird Park. Home to over 8,000 birds from 600 species, this is the largest bird park in all of Southeast Asia and home to
one of the largest hornbill collections in the world. We took the "Night Safari" and wandered through the world's first night zoo. Clever lighting makes it possible to view the animals from Asia, Africa and South America in their natural habitat at night. And if you have trudged around the shops all day and you don't feel like walking, jump on the tram that runs continuously through the park. We spent long afternoons in the Singapore Zoological Gardens, and quiet mornings wandering through the Singapore Botanic Gardens. Take in breakfast and stroll through the National Orchid Garden housing some
60,000 plants and orchids. For a great view of Singapore, head up to Mount Faber, or take the cable car to Sentosa Island, an immaculately kept giant playground
Just south of Singapore. Raffles Hotel,built in 1887 was restored to its original old world charm during the 1980's, and still qualifies today as one of the world's greatest 19th century hotels. They do a Sunday brunch that is to die for, but you need to book in early.
Ethnic Singapore......
We visited Arab Street, Chinatown, and Little India and found some of the most exquisite batik, fine lace, and silks. These are great places for dining and ideal places to pick up souvenirs as well as some fine antiques.
If its history you want - Singapore has plenty of it, and you can spend at least a morning or afternoon in any one of their excellent museums.
We had fourteen wonderful days in Singapore and when it came time to check out we visited the Harbourmasters office once more for our port clearance. Clearing with Immigration and Customs is a little more complicated. You see its quite a "backtrack" around to the Western Quarantine area from Raffles Marina, to check out with immigration, if you are heading north up the Malacca Straits, but it is possible to have Immigration come out to the marina. The only catch is that a fee is levied to cover the taxi fare for the officer to come to your boat. Luckily for us, four yachts were clearing the same morning and we were able to share the AUS$50 fee between us.
A friend of ours told us that Singapore is "Asia for beginners" - Since leaving Singapore we have cruised Malaysia and we are currently in Thailand. Reflecting back on his comment, he wasn't far off the mark. We loved it, and we will return, if only to line up at the Long Bar at Raffles Hotel and order the legendary "Singapore Sling".