One of the most common hardware failures, is one you can probably fix!
So, your puter is OK for a while and then it starts behaving erratically. It may have a 'hot smell' as well. The it finally shuts down. If you take it to "the shop" you may be told just about anything out of ignorance or avarice but the result is the same, you fork out large sums of cash when it may have been something you could do aboard in 30 minutes for the cost of having a small screw driver and a pair of tweezers.
To explain; your computer has a processor, the heart of the beast, and it creates heat. So much heat that a heat exchanger and fan is built in. Any environment, but particularly a boat, has dust in the air. The dust eventually clogs the fine grill on the heat exchanger, the processor overheats and runs poorly and may even die but most likely just shuts down. Especially if you catch the problem soon enough, you can save your computer without putting yourself into the smiling hands of a person I call a techno-snot. A twenty something with a cheap degree from a cut-rate uni that knows little more than you, but little is enough to cash in on baby boomers, renown for their/our Luddite tendencies.
The photo captions give step by step instructions on how to do this simple housekeeping chore that may save you hundreds or thousands, on either laptop or PC. Pc's are standardised enough that the pics will cover almost all around however, laptops can vary widely. The example used here is an ACER Aspire series. This may be one of the most popular models of all time so the example may be useful to a lot of puterheads.
So now please scroll down this page for the complete illustrated tutorial on how to save your computer from the dust.
Do I really need to remind readers that you must disconnect the power lead before getting your hands in the thing?!? Good, I didn't think so....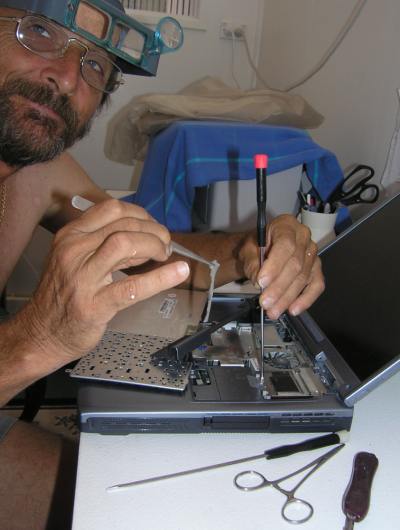 The dust 'worm' in the tweezer was the first time the author braved the guts of a laptop. This older computer was more difficult to 'operate on' but at the time it was believed there was nothing to loose so why not try. It worked! Over the years since then, many TCP puters have been saved by this important little scrap of information.