Yacht Georgia Lost Off Point Perpendicular!
Latest news at the top of the page.. Scroll down for more
Wild Oats XI Takes Line honours!
---
0900hrs, 31 DECEMBER 2008
1998 Sydney Hobart Yacht Race Remembered
Threatening skies complemented a somber mood as skippers, crews and volunteers gathered together dockside to pay tribute to the six sailors who have lost their lives during the Sydney to Hobart ocean racing classic ten years ago.
Joining them were family members of Bruce Guy, skipper of the ill-fated Tasmanian yacht Business Post Naiad, and crew member, Phillip Skeggs. Both perished during the storm that engulfed the yachts off Gabo Island in the 1998 race.
Matt Allen, Commodore of the CYCA, recalled that 10 years ago a severe storm resulted in the biggest ever maritime rescue conducted in Australian waters. 25 aircraft, six vessels and approximately 1000 search personnel braved gale force winds and dangerous seas to rescue 55 sailors. 5 yachts sank and only 44 of the 115 starters make the finish to Hobart. He paid a sincere tribute to all search and rescue personnel who continue to assist sailors when in need.
Allen also remembered all those who have perished during and because of this race since 1945, and acknowledged the presence of family members of the five crew of the Tasmanian yacht Charleston which perished in Bass Strait when heading for the start of the race.
"The 98 race is a poignant reminder that the sea always holds the trump card," Allen said. "Ocean racing, like many other pursuits in life which contain a level of excitement, will always have an element of danger and risk."
Commodore of the Royal Yacht Club of Tasmania, Clive Simpson, joined Matt Allen to lower a reef into the waters of the Derwent harbour. This was followed by one minute's silence to reflect and to remember those who had lost their lives.
Family members were visibly moved by the ceremony. Mark Guy, son of Bruce, said that "I never forget my Dad and he is truly missed every day. Today's tribute was a very special way to remember our Dad and others who lost their lives during this race. It is a lasting legacy to my father that safety changes were implemented after the race."
Ros Guy, wife of Bruce, believed the memorial service was especially important for the grandchildren.
As the service concluded, Polaris of Belmont was welcomed safely to its marina berth, leaving just one yacht still racing, the Tasmanian 30 footer, Nest Property, which is due to finish during the afternoon.
Father Brian Nichols recited A sailors farewell
We will miss you always
We will remember you always
We will learn from the tragic circumstances of your deaths
May the everlasting voyage be blessed with calm seas and gentle breezes
May you never have to reef or change a headsail at night
May your bunk always be dry
To us you will always be family and we wish you farewell.

---
0900hrs, 31 DECEMBER 2008
LAST YACHTS TO FINISH BEFORE NEW YEAR'S EVE
CELEBRATIONS ARE IN FULL SWING
The final two yachts sailing in the 2008 Rolex Sydney Hobart are expected to enjoy the rarity of a New Year celebration on dry land.
In previous years, many yachts were still at sea negotiating the 628 nautical mile course when the New Year rings in, but 2008 has witnessed a particularly fast race time for the majority of entrants.
Chris Dawe's Polaris of Belmont, from NSW and Murray Wilkes' Nest Property, from Tasmania, are expected to finish before the clock ticks over into 2009 and both crews will be eager to reach Hobart to join in the festivities on the waterfront.
Polaris of Belmont is predicted to reach the finishing line by around midday today, while Nest Property is likely to receive a substantial applause from the Hobart faithful to conclude the 2009 race around 4pm this afternoon.
This will be Nest Property's first Hobart, while veteran Polaris of Belmont will have completed 24 Hobarts.
90 yachts have now completed the race, with six yachts finishing between the hours of 6pm yesterday and 5am this morning, including Sean Langman's Maluka of Kermandie - the smallest boat in the fleet - and Peter Goldsworthy's Getaway Sailing 2, which had five Russian crew members from Trading Network Alye Parusa on board, after their yachts was forced to withdraw prior to the start due to keel damage.
Today, the divisional winners of the Rolex Sydney Hobart Yacht Race will receive their battle flags at a public ceremony at 11am on Hobart's Constitution Dock. CYCA Commodore Matt Allen and RYCT Commodore Clive Simpson will remember those lives lost at sea in the 1998 Sydney Hobart Yacht Race and others who have been lost during the course of a Sydney Hobart, with a one minute silence and casting a wreath into the water.

---
30 DECEMBER 2008
Dutchman will come back despite the Derwent
Atse Blei, the owner/skipper of the Dutch S&S 41 Pinta-M says he will just have to leave his boat here and come back for a crack at the real Rolex Sydney Hobart, with the violent southerly fronts and the cold hard, dead of night bashes into big steep seas it is renowned for. That is the kind of Hobart race this Fastnet veteran has always imagined, and the kind of race his strong, 1972 IOR classic would revel in. Four days of relentless downwind running and reaching is definitely not ideal an IOR boat. Still, when he stepped off Pinta-M this morning Atse declared he had thoroughly enjoyed himself.
"It was beautiful," he said. "It was obviously not what we came for so we may have to do it again. It was a good race and very enjoyable. It is a lot better than the Fastnet. More tactical. Yeah, I'll leave the boat here and do it again. "
Atse estimates that he spent about 80,000 euros ($160,000) bringing Pinta-M to Australia and preparing here for the race. So were the last 4 days worth 80,000 euros? "No," he laughs, "but it will be cheaper next time. We can divide it by two."
"We had a rough night the second night. Twenty eight knots of wind and a lot of sail changes. We blew out our big spinnaker on the first night which didn't help very much. We had to do the rest of the race with a smaller one. If we had kept that big spinnaker we would have finished earlier and missed the last 3 hours on the Derwent River."
"How can you finish an ocean race on a river," a bemused Blei asks. "We got a text message this morning that we needed to finish by 10:44 to beat Winsome," another vintage Dutch S&S 41 sailed by his good friend and Fastnet rival Harry Heijst. "We only had to do 3 miles and we had more than an hour to do them in." In the end it was to take Pinta-M more than two. "We had wind shifts over a hundred degrees so we were constantly on the wrong side of the river. We saw our windex go round 4 times. After beating all the way from the Iron Pot we actually managed to finish under spinnaker."
A Derwent River cantankerous enough to drive even the toughest skipper to distraction.
At least Atse Blei experienced one component of a typical Rolex Sydney Hobart after all.
By Jim Gale/Rolex Sydney Hobart media team

---
30 DECEMBER 2008
The resurrection of Valheru
Tony Lyall sailed his beloved Valheru to Sydney to compete in the 2002 Rolex Sydney Hobart Yacht Race expecting to put in a top performance. But within minutes of the start their race was done. Peugot Racing collided with Valheru, forcing her to retire with severe hull damage.
Lyall and his crew were devastated as they limped Valheru back to the marina. Returning to Hobart by air had not been on their agenda.
For several years the battered hull of Valheru was parked in her skipper's backyard while insurance companies were involved in protracted negotiations. It was a long and frustrating wait for Lyall who did little ocean racing during this time. Time was spent carefully planned the rebuilding of the yacht, with Fred Barrett designing modifications to both hull and rigging.
Lyall immediately started work on the restoration of his Elliott 13 once insurance claims had been resolved. In October 2008 Valheru set sail from its home town of Beaconsfield, in northern Tasmania, for Hobart where he and his crew competed successfully in all events, including the Maria Island race.
Valheru was now well prepared for their return to the Rolex Sydney Hobart. It was a poignant moment as they sailed through the heads into Sydney Harbour on the delivery journey. Crew raised their glasses in a toast to Tony Lyall, his vision and sheer determination to again compete in this great ocean racing classic.
Eight of the yacht's crew of ten had sailed on Valheru at the start of the 2002 race. For them it had also been a long wait, but also a demonstration of the loyalty and camaraderie that ocean racing can engender. According to one crew member, Ian Ross, "it was extremely important for us to get out of the harbour without incident and to finish the race for Tony. We have now erased some bitter memories."
After crossing the line at 7.39pm on Monday evening, skipper and crew celebrated being the first Tasmanian yacht to finish this year's Rolex Sydney Hobart. In fact, Lyall believes that just finishing the race is the biggest challenge. "If you win anything then that is a bonus," said the weather-beaten skipper.
Like most of the fleet, Valheru relished the hard running conditions. Skipper Lyall rated the first 24 hours of the race as "simply superb … champagne sailing", but Bass Strait was "pretty ordinary with 15 knot northeasterly winds."
Again, like most of the fleet, it was not until they rounded Cape Raoul that Valheru experienced strong northerly winds gusting 35 to 40 knots. "Storm Bay certainly lived up to its reputation and we had a slow, frustrating beat to the finish," Lyall said.

---
1300HRS, 30 DECEMBER 2008
Nest Property in the doldrums
At lunchtime today Murray Wilkes and his crew aboard Nest Property were really in the doldrums. They had come to a grinding halt just north of Maria Island after a scintillating spinnaker run that lasted a couple of hours.
"We are just sitting here doing absolutely nothing, and going absolutely nowhere," a rather forlorn Wilkes lamented.
"Music is blaring from down below, and curiosity has got the better of the occasional fur seal. We are having no trouble eating the remaining food that can't be brought ashore."
As they bob up and down in a small swell, the Rolex Sydney Hobart skipper notes that having six guys aboard a small 30 foot yacht has its downside.
"The boat no longer smells as it should," said Wilkes.
"It's a bit of a stink boat down below!"
This is the third time Wilkes and his crew of five have been becalmed. They wallowed in virtually still waters just south of Gabo Island for more than eight hours.
"I just sat there looking at the water, reflecting on the contrast of ten years ago when yachts were confronted by monster waves," Wilkes said.
Then again last evening Nest Property spent more time drifting without wind and Wilkes and his crew couldn't help thinking about the fortunes of ocean racing, and how the front pack had experienced such fantastic reaching and running all the way to Tasman Island.
Morale, however, is good, especially as the crew has Tasman Island in their sights, and that means Wilkes and his crew are nearly home.
It has been a long journey for Nest Property which looks like being the last yacht to finish this year's Rolex Sydney Hobart sometime tomorrow morning, New Year's Eve.

---
30 DECEMBER 2008
Sole female skipper arrives in Hobart victorious
Sally Smith, the lone female skipper has completed her first Rolex Sydney Hobart at the helm of Helsal IV. The big 20 metre cruiser owned by her father, Dr Tony Fisher, was one of two Helsals in this year's race. Tony and Sally's brother Rob were competing on their more race oriented Helsal III.
Sally had just one objective. To beat the best time her brother had ever recorded in earlier races when he skipped Helsal IV. She did that with half a day to spare.
"We certainly broke Rob's record of 4 days, 5 hours and 29 minutes," says Sally, "though I must admit that when we were sitting out there totally becalmed I was thinking it won't be 4 days 5 hours it will be 5 days 4 hours."
In the end Sally did it in 3 days 18 hours and 21 minutes.
"What will be the first thing I say when I see Rob? Where's my bottle of Bollinger!" she laughs.
Sally promises that she won't rub it in that while she steered Helsal IV, big brother Rob and father Tony were forced to retire when they wrapped a brand new spinnaker around their rudder during a sail change that went wrong.
"I was a bit nervous when I hadn't heard from them," she says, "I was glad it was only something minor and that no-one was hurt. There's always next year."
Certainly Sally could scarcely have chosen a better year to do her first Rolex Sydney Hobart. "What a perfect race," she says. "We'd be scooting along at 13 knots, and then we'd be becalmed and then a bit of wind would come along and off we'd go again. I'll definitely be back again."
Not that Helsal IV's race didn't have its frustrating moments. "We got down to Bass Strait in the first 24 hours, which we thought was fabulous. But it took us another 24 hours to do another 60 miles. It was very frustrating. We were a fair way out, we had to come back in, then we had to go back out again searching for breeze.
"It was the same last night. A bit of breeze, then nothing, then a bit of breeze again. It was amazing just off Maria Island. We were sitting there for about an hour with absolutely nothing. Just sitting there. We'd been doing 1 knot for 3 or 4 hours. Then all of a sudden the breeze came in and within 10 minutes we were on our ear doing 18 knots.
"The first night we ripped our asymmetrical spinnaker," Sally recalls. "We couldn't use it again and I thought, next time I'll bring a sewing machine instead of a hair dryer. Though actually when we tore Big Red, our other spinnaker, we did use the hair dryer to dry it off to put a patch on so maybe I'll bring a sewing machine AND a hair dryer."

---
0830HRS, 30 DECEMBER 2008

Shogun disqualified; Ragtime, Telcoinabox Merit granted redress

The International Jury, chaired by John Kirkjian, with jury members Katsuya Hasiba, Lars Nyvqvist, John Rountree and Tony Mooney heard three protests and two applications for redress yesterday evening.
After an incident on the start line on Boxing Day, Rob Hanna's Cookson 50 Shogun was protested by Stephen Ainsworth's Loki and Syd Fischer's Ragamuffin. The jury found that Shogun had breached rules 11, 12 and 14, and was subsequently disqualified.
The International Jury also heard applications for redress from Ragtime and Telcoinabox Merit, after both yachts provided assistance in the successful rescue of Georgia crew members from their stricken yacht on the evening of 26 December.
The International Jury commended the outstanding assistance provided by Telcoinabox Merit by awarding them an 18 hours time correction. Telecoinabox Merit heard the request for assistance from Georgia and was requested by Race Control to go to her assistance. Telcoinabox Merit removed all 14 crew members from Georgia and travelled approximately 36 miles towards Batemans Bay so that the crew members could be transferred to a police launch when light permitted. She was then released by Race Control and resumed racing by which time she was in a different weather pattern to her closest competitor, a similar vessel. This resulted in Telecoinabox Merit finishing 16th across the line and the provisional winner of PHS Division (to be confirmed once all yachts in PHS Division have finished).
Ragtime, who had observed the distress flare and responded to the call from Race Control to render assistance, had their time amended by 115 minutes for standing by, having to backtrack to standby and then for the resumption of racing after being released by Race Control. This has now brought Ragtime's position to 18th across the line and 1st in IRC Division 2 (to be confirmed once all yachts in Division 2 have finished).

---
The Hero's from the whitsundays! The crew of Telecoinabox Merit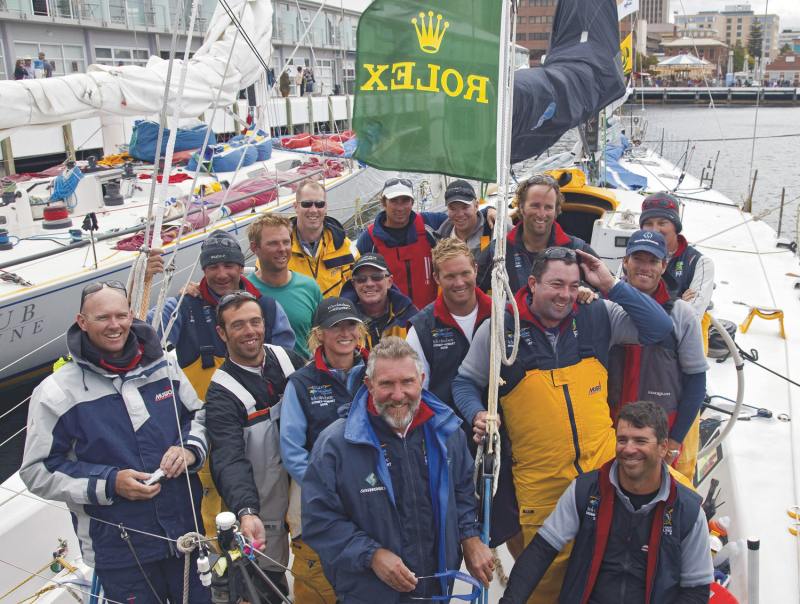 1730HRS, 29 DECEMBER 2008

Seven commercial skippers to the rescue

For those in peril on the sea, it would be comforting to know that people like Leo Rodriguez and his "motley" crew aboard Telcoinabox Merit are at hand.
When the Victorian Farr 53 Georgia lost its rudder and began sinking on the first night of this year's Rolex Sydney Hobart Yacht Race off Batemans Bay, Telcoinabox Merit, the former Volvo 60 now based at Airlie Beach in Queensland, was two miles in front of her.
On her crew were seven commercial skippers, veterans of 15 years in the charter business in the Whitsundays and right up to speed on survival at sea training. They included skipper Leo Rodriguez who had just completed a refresher course as he prepared for this year's Rolex Sydney Hobart.
Telcoinabox Merit was ahead of John Williams and Graeme Ainley's Georgia, romping along under spinnaker in 25 knots of wind, and 18th in the fleet of 100.
"We heard Georgia call JBW (the radio relay vessel) for help then we were asked by JBW to attend because we were the nearest vessel," he recalled today on Telcoinabox Merit's arrival in Hobart.
"We were two miles in front so we had to motor back to the position of the boat. We told them that we were 35 minutes away but they were concerned that 35 minutes might be too long. When we got there the boat was in a pretty bad state. There wasn't much time left "
Rodriguez said that when they reached Georgia they asked the crew to board their life rafts, seven at a time.
"When we arrived the nav (navigation) lights were about two inches from the surface of the water so there wasn't much time left at all. They (the crew) had been in waist deep water for quite a while so my main concern was to get them on board and get them warm and get them down below and make sure no-one was hurt in any way."
They completed the rescue by using Georgia's liferaft in two ferrying operations. A stern line was attached to Georgia and a bow line to Telcoinabox Merit. When the final crew member was in the raft, they cut the stern line and were hauled aboard Merit.
"We got them on board pretty much without a hitch," he said.
"They were pretty glad we were there. There was no chaos.
"Basically, the boat rolled over about 10 minutes after we got them all off the boat. It didn't take long at all. It still had the mainsail up when it rolled. The nav lights and stern lights were still on below the surface.
"They were very thankful that we were there; very thankful that we answered their call."
He said there were closer boats but they did not get the call.
"We didn't think we were the closest boat. We were the ones that responded and we were the ones that could take them safely, so we did.
"The beauty with our boat is that we have seven commercial skippers on board so we've all done it before, done our sea survival courses. I personally did the sea survival course, just as a refresher. Things like that always help."
After the rescue, Telcoinabox Merit took their passengers inshore towards Batemans Bay where the police boat Nemesis had said conditions would be calmer and where they could be off loaded into a RIB.
"At that point we hoisted sail and got going," Rodriguez said.
Cruising Yacht Club of Australia Matt Allen, on behalf of the crew of Georgia, personally thanked the crew on Georgia's behalf and handed over an ample gift of refreshments.
"Thank you and your crew for your assistance in what was a very important time for them," Allen said.
Telcoinabox Merit has lodged claims for eight to nine hours redress, since, when they rejoined the fleet they were in 73rd place and sailing in far less favourable conditions. They finished in 28th place. The International Jury is currently hearing the request for redress.
Chris Welsh's USA based Spencer 65 Ragtime observed the distress flare from Georgia and was asked by the race committee to proceed to their location. They remained on standby and this afternoon were awarded 115 minutes redress and were commended for their action.
With redress, Ragtime is currently 11th overall on the IRC handicap pointscore.
By Bruce Montgomery/Rolex Sydney Hobart media team
---
1430HRS, 29 DECEMBER 2008
Helsal III Reaches Triabunna After Retiring from Rolex Sydney Hobart

The Tasmanian retiree in this year's Rolex Sydney Hobart Yacht Race, Helsal III, has reached Triabunna despite a damaged rudder and will not resume racing.
Skipper Rob Fisher told the Rolex Sydney Hobart Media team this afternoon that he had taken the prudent course to withdraw from the race after problems with the rudder compounded after the first night.
"We dropped a spinnaker in order to reduce sail. It went in the drink and wrapped itself around the rudder," Fisher said.
"One of the crew, John Davis, went over the side to cut the spinnaker free, but there was obviously some damage to the rudder mounting.
"As the race progressed, the top plate housing the rudder post began to move by four and five inches. We got to 50 miles east of Bicheno and I thought the prudent course was to retire."
Part of the cost will be a bottle of Bollinger champagne for his sister, Sally Smith, who is skippering the family's other boat Helsal IV. That was the bet for the first of them to finish.
"She rang me: first to make sure we were OK. Then to ask 'where's my bottle?' " Fisher said.
It is the first time in the Rolex Sydney Hobart's 63-year history that boats have been skippered by a brother and sister.
Rob and Sally's father, Dr Tony Fisher, originally owned Helsal III, a 20 metre pocket maxi, in the late 1980s and early 1990s. He chose to sail this race with his son, not his daughter.

---
Kirk Watson, at the helm to take her over the line

1330HRS, 29 DECEMBER 2008

Elementary, My Dear Watson

Sailing in his fourth Rolex Sydney Hobart Yacht Race, 35-year-old Kirk Watson was handed the helm by skipper of Sailors with Disabilities, David Pescud, to sail the yacht across the Castray Esplanade finishing line in 25th place overall today.
Nothing unusual about that, you say?
Kirk Watson is blind. And he relished the experience.
"It was a bit stressful at first, but exhilarating, and it was great to hear the hooter as we crossed the line," he said.
Watson's major responsibilities are on the mainsheet, optimizing the sail shape of the mainsail. He is expected to perform like any other member of the crew. While he may not be able to see, Watson, like any other sailors trimming the mainsail, relies on feel, but he more so.
"I can feel the load on the mainsheet and know instinctively when to ease and when to harden, but communication with the drivers is just so important as well," he said as he worked with others on the crew to pack up sails.
For this race, the 54 footer Sailors with Disabilities had four sailors with a disability. One had reduced leg movement due to polio. Two, including Pescud, suffer from dyslexia.
Pescud said he was totally committed to providing sailing opportunities for people with a disability and has often sailed with a full complement of sailors with a disability.
"It demonstrates the capacity of what disabled people can do, often on a daily basis. And it is important that disabled people participate in this sport … it should be an even playing field," Pescud said.
He was a little disappointed with their performance, believing they would have finished a little higher in the pecking order, perhaps even winning their division, if the right tactical decisions were made.
Like many other of the early finishers, Sailors with Disabilities experienced great sailing conditions and arrived in Hobart without breaking any gear and having only one serious problem.
"We ran out of coffee!" he groaned.
Pescud hopes to continue his involvement in the Rolex Sydney Hobart, but without sponsorship he is feeling the pinch.
"I am really hoping we can pick up a generous, committed corporate sponsor to ensure that people with a disability can have the opportunity to participate in this great event," he said today.
---
Bob Steel wins his second Rolex Sydney Hobart
29 DECEMBER 2008
Bob Steel wins his second Rolex Sydney Hobart
One of Sydney's most successful yachtsmen, Bob Steel, today completed a rare double in the history of the Rolex Sydney Hobart Yacht Race when his latest Quest was declared the overall winner of the 2008 race, the winner on corrected time.
For that he receives the 'sailors prize', the Tattersall's Cup, the trophy he first won in 2002 with a previous Quest, a Nelson/Marek 46.
"I am humble about the double. To win it twice is sensational, the fight was pretty daunting," said Steel.
His third and latest Quest is a TP52, with which he had already won the 2008 Skandia Geelong Week and finished second in the 2008 Audi Sydney Gold Coast Race.
Steel's crew is one of the most experienced in this year's Rolex Sydney Hobart Yacht Race in terms of the number of Hobart races completed - 170 between 14 crew.
When told the news this morning by the Commodore of the Cruising Yacht Club of Australia, Matt Allen, Steel replied: "We did our very best."
"Your best was good enough," Allen replied.
Quest crossed the finish line at 2pm on Sunday, four and half hours behind the line honours winner Wild Oats XI and at the head of the highly-competitive TP52 fleet that competed in the race.
Steel is a former tourism entrepreneur in Sydney and is semi-retired. He was named the Cruising Yacht Club of Australia's Ocean Racer of the Year in 2003 following that 2002 Rolex Sydney Hobart win and in the same year was named Australian IRC Offshore Champion.
His record with his latest Quest is equally impressive.
"This is the greatest sport in the world," Steel said as Allen presented him with the Tattersall's Cup.
"Anyone can take part in it - from the young to the very old, like me.
"This has been one of the best and strongest fleets in a Hobart ever. To be in front of this fleet and to take home this amazing trophy and my second Rolex makes me proud of the crew and the boat."
Rolex Sydney Hobart first timer, Sydney based Quest crewman Stuart McCuaig, 26, was proud as punch this morning. McCuaig only joined the Quest crew this year and when the offer came up to do the Rolex Sydney Hobart he jumped at the chance.
Given there was still some uncertainty late yesterday about the provisional winner, Quest's crew celebrations were fairly tempered last night, "we went out and celebrated being the first TP52 home" added McCuaig.
Previous Rolex Sydney Hobart multiple overall winners include GD Gibson in 1947, 1948;Trygve and Magnus Halvorsen in 1954, 1957, 1963, 1964, 1965; Vic Meyer 1956, 1962; Graham Newland 1958, 1960; Peter Kurts 1974 and 1978 (his boat Love and War won a third time in 2006); Lou Abrahams 1983 and 1989; Gary Appleby 1985,1990.

---
0820HRS, 29 DECEMBER 2008
Fleet update - two additional retirements
An additional two yachts have retired in the Rolex Sydney Hobart Yacht Race.
Both Helsal III and Leukaemia Foundation have suffered rudder damage and are now out of the race. The two yachts are expected to arrive in Triabunna halfway down Tasmania's east coast this afternoon.
Twenty five yachts have now arrived at Constitution Dock in Hobart, with another 70 still racing.
The Overall Winner is expected to be announced today, with Bob Steel's NSW boat Quest holding onto its lead overnight.

---
1730HRS, 28 DECEMBER 2008

Close up and personal
Nearly half the Rolex Sydney Hobart Yacht Race fleet, more than 40 boats, are locked in battle this evening, east of Flinders Island, a long way out to sea and battening down the hatches as strong winds continue.
A strong wind warning is current for their field of play, up to 85 miles off the island coast. The forecast until midnight is for north-west winds 15 to 25 knots, reaching 30 knots at times, tending westerly at 15 to 25 knots this evening, with two to three metre seas.
Tomorrow's forecast for the length of the Tasmanian east coast is for westerly winds 15 to 25 knots, again reaching 30 knots at times.
The second half of the fleet are grouped like a swarm of bees on the Yacht Tracker website, making between six and 10 knots, a network of private competitions. Most will reach Hobart on Tuesday.
On boats like Flying Fish Arctos ingenuity is the order of the day as gear begins to take punishment. They broke both spinnaker poles yesterday and today and have spent fruitful hours refashioning makeshift new ones from jockey poles, which are usually employed keeping spinnaker sheets clear of the shrouds that support the mast on each side of the boat.
Flying Fish Arctos is the flagship yacht in the Flying Fish offshore training fleet and has a crew of Australians, Europeans and Americans aboard.
Geoff Boettcher's Secret Mens Business 3 from Adelaide is the next yacht due across the Rolex Sydney Hobart finish line, due at 7.30pm this evening.
Thirteen yachts are now safely tucked up at Elizabeth St Pier with 84 still at sea.

---
It's not the size, just feel the quality
1650HRS, 28 DECEMBER 2008

Sydney yachtsman Bob Steel may be on the verge of his second overall win in the Rolex Sydney Hobart Yacht Race. Six years after winning the race on corrected time with a previous Quest, Steel now has a nervous night's wait to see if he has won again.
Quest crossed the finish line at 2pm this afternoon, four and a half hours after Wild Oats XI, nearly twice as long in length, had taken line honours.
"A fantastic sleigh ride," is how Steel this afternoon described his 16th Rolex Sydney Hobart race as he led Quest's two TP52 sisterships, Syd Fischer's Ragamuffin and Alan Whiteley's Cougar II across the line by 12 minutes and 46 minutes respectively.
"It looks like we could do quite well on handicap, now we've just got to wait for the big result," he said.
"This Rolex Sydney Hobart was very kind to us, probably the easiest race I've done but there were parts you wished you were somewhere else," he said.
"We've got so much experience on the boat, around 160 Hobarts between us and we've got a very good yacht, one of the leading TP52s in Australia."
Just ahead of Quest across the line was Geoff Ross's Yendys. Ross has a similar story to tell having won the Rolex Sydney Hobart in 1999 with a previous version of Yendys.
Ross was claiming some sort of record despite being pipped by Quest for leading player in the clubhouse on corrected time.
"We think we have the race record for under 60 foot boats. I got the record for under 50s in 1999 in very similar conditions in a Farr 49," he said.
Andrew Short Marine Shockwave 5, a former Alfa Romeo Shockwave, was fourth across the line, skipper Andrew Short's personal quest to be realised another day.
"Winning this is not just a dream. It is my life-long goal and I'll keep going until I get it," Short said.
"The Rolex Sydney Hobart is the pinnacle and you're only as good as your last Hobart race and you want to do your best. In the old days it was a four to five day slog. Now it's more intense, you have to work harder to get results.
"It's an eight year old boat. I'm not the wealthiest bloke in Australia - none of the crew gets paid. We do it for the love of the sport."
Meanwhile, it's hard to keep a good man down.
Roger Hickman, sailing master on Alan Brierty's new 19.5 metre Reichel Pugh design Limit, today crossed the finish line in the Rolex Sydney Hobart Yacht Race in fifth place and still standing despite what should of been a debilitating leg injury before the race start.
Hickman, one of Hobart's most accomplished yachtsmen who made the migration north to live in Sydney, hobbled aboard Limit on Boxing Day for the start with his right calf heavily bandaged after a fall during the Rolex Trophy.
According to orthodox medical opinion, he should not have started the race.
"A couple of doctors told me it would be three weeks on crutches for me and three months of physio before I was walking again," he said.
Instead, Hickman visited a Sydney physiotherapist for a four-hour session on Christmas Day and another three-hour intensive massage before the start on Boxing Day - and then took his place at the wheel of a new boat whose limits were yet to be tested.
Two days and 628 nautical miles later, he was still standing.
"I can walk, but I can't stagger," he said as he sipped his first beer after tying up at the marina. "It was OK, but steering was hard. I didn't do as much as usual."

---
The shark that ate Skandia
It seems a two metre shark has played a crucial role in the line honours outcome of the 64th Rolex Sydney Hobart Yacht Race.
At 9.34am this morning Wild Oats XI crossed the finish line, creating race history by being the first yacht to lead the fleet into Hobart for four consecutive years.
Her time was 1 day 20 hours 34 minutes and 14 seconds, 1 hour and 54 minutes outside the record she set in 2005. But that didn't worry an elated Wild Oats XI skipper Mark Richards one bit.
"When it's your own record it doesn't matter at all. We had one goal and that was to get here first. If you want to beat that record you want to smash it."
In the end it seemed that everything had gone to plan. Before the race Wild Oats XI had been at unbackable odds to win line honours. The bar room drum was that all she had to do was show up to win. In reality, though, Wild Oats XI had to fight a determined Skandia from behind, and may owe her victory to a very battered and bruised shark.
"We had a really tough race, and the first three quarters of it we were behind Skandia," Richards said.
"There's no question this was the toughest race by a country mile. It doesn't seem to get any easier," tactician and helmsman Iain Murray conceded. "This race was particularly hard on the crew. A lot of variable winds and a lot of changing sails and a lot of decisions whether to go in or out," he said.
"We must have done 60 sail changes in the last 24 hours," Richards said.
Expected to clear out from the fleet from the outset, Wild Oats XI instead appeared slow.
"There were times when Skandia was just sailing away from us, which we hadn't seen before. We didn't think we were sailing as fast as usual. We didn't achieve our target speeds and Skandia was sailing very well. He (Grant Wharington, Skandia's skipper) was sailing the shifts nicely and getting into the weather.
"When we left Sydney Heads we were pretty confident we got something wrapped around the keel," Mark Richards said.
"We couldn't see it but the boat was sailing like an absolute dog for 24 hours. We couldn't get out of our own way.
"Then around 4pm on Saturday we wrapped a shark around our rudder. We couldn't get rid of it so we ended up backing off and going backwards to clear the shark.
"All of a sudden Wild Oats XI was back to her old self and we took off. We were going faster and within a half hour we were ahead of Skandia."
Richards says that this single incident was the most instrumental factor in Wild Oats XI finishing first. "Getting the thing off the keel. It was as simple as that. Yesterday before the shark they were eight miles in front of us and within two hours we were five miles in front of them."
As the boats sailed down the Tasmanian coast the conditions also started to better suit Wild Oats XI.
The strong 20 to 30 knot northerly winds of the first day began to lighten and become more variable. Both yachts sailed into holes and were totally becalmed.
"We couldn't steer the boat. We did loop the loops, headed back to Sydney for a while. We had every sail up 40 times," Iain Murray joked.
"If the breeze had stayed 25 knots from the north we were struggling to catch them. But we always knew that it was going to get tricky down here and in light winds we were always comfortable with the boat's performance. We have bigger light air sails."
"Skandia was really slippery in the conditions," skipper Grant Wharington said of their fabulous day of match racing that put them ahead.
"We were really focussed on the job we had to do, which was racing the fleet (for the handicap win).
"Tactically we sailed a great race. We found we were faster than them in the fresh conditions. But we hit two parking lots and they wrecked our race."
Wild Oats XI survived a serious challenge from Skandia to celebrate a famous victory.
"It's Bob Oatley and the whole Wild Oats team," Richards declared. "Without Bob none of us would be here and without all of us Bob wouldn't be here."
The proud owner said of his crew's win, "winning an America's Cup would be no greater than today's win".
"In hindsight we should have backed back earlier," added Richards. "It's very hard. When you're travelling at high speed what do you do? You keep second guessing yourself. Thank god the Lord looked after us and put the shark in front of us and we backed down anyway."

---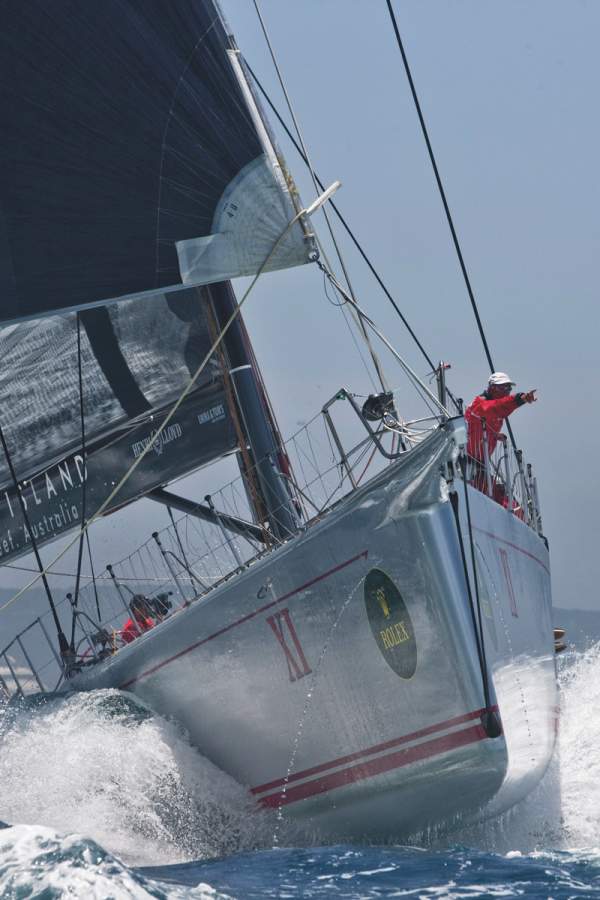 1120HRS, 28 DECEMBER 2008
11th hour battle for Tattersall's Cup glory
An 11th hour battle among Australia's top 50-foot yachts for the ultimate prize in the Rolex Sydney Hobart Yacht Race, the Tattersall's Cup for the winner on corrected time, has been taking place in Storm Bay at the entrance to Hobart's Derwent River.
Three TP52s are in the top six places, with Bob Steel's Quest in first place, the indomitable Syd Fischer sailing his 40th Hobart race with his latest Ragamuffin snapping at Quest's transom in second and Alan Whiteley's Victorian sister to those two boats, Cougar II, in sixth place.
Between them are Ray Roberts' Quantum Racing and Geoff Ross's Reichel/Pugh 55Yendys.
Ragamuffin, behind Quest on the water, is within seven minutes of Quest's corrected time.
Quest is 11 hours inside her required finishing time to win the race on corrected time as she enters the Derwent for the final leg of the race.
Fischer on Ragamuffin is also well inside his required finishing time but with an hour less to spare.
Quantum Racing, Yendys and Cougar II are a further hour behind in their zone of comfort.
At 9.52am this morning Bryan Northcote, navigator of Quantum Racing, reported damage to the Sydney-based canting keeled Cookson 50.
"Everything was rosy until around 10pm last night we hit something doing 27 knots and broke our rudder at the post leaving about 1 metre below the hull. This reduced our boat speed down to 60% making it a very difficult trip down the Tassie coast.
"After extensive checking of the steering system established we could continue at reduced speeds, which dashed all our high hopes for IRC overall," said Northcote.
Despite the damage, Quantum Racing remains fourth overall.

---
0945HRS, 28 DECEMBER 2008
Wild Oats XI takes record fourth consecutive line honours win
Wild Oats XI has lived up to its pre-race expectations and at 0934, 14 secs AEST this morning sailed into the Rolex Sydney Hobart Yacht Race history books. Her elapsed time was 1 day 20 hours 34 minutes and 14 seconds.
In 15 knots of north nor'east breeze and with a sizeable spectator fleet escort, the mighty Sydney-based 30m maxi owned by Bob Oatley and skippered by Mark Richards achieved something no other boat has in the race's 64 year history - four consecutive line honours wins in the 628 nautical mile ocean classic.
Wild Oats XI overcame a number of setbacks including a torn spinnaker soon after the 1pm start on Sydney Harbour on Friday, a too-close encounter with a shark last night that could have caused serious damage to their rudders and yesterday's valiant fight back by Skandia to lead the high tech Wild Oats XI for most of the day.
The record for the most line honours wins in the Rolex Sydney Hobart Yacht Race is held by Morna/Kurrewa IV, the same boat which sailed to seven line honours victories under two different owners and two different names, the last time in 1960 as Kurrewa IV.
Last year Wild Oats XI equalled Morna's record three-in-a-row, set in the 1940s, and this year she has taken her own slice of history with her fourth back to back win.
Wild Oats XI is also the current record holder with a time of 1 day 18 hours 40 minutes 10 seconds set in 2005 when she took her first line honours win having only been on the water a matter of weeks.
Wild Oats XI's finish times
2005 (record) 1:18:40:10

2006 2:08:52:33

2007 1:21:24:32
2008 1:20:34:14
There have been no further retirements with 96 still racing south and Skandia the next due to finish, at 10:34 AEST
---
Wild Oats XI heading into the history books
0530hrs, 28 DECEMBER 2008

The crew on the 30m maxi Wild Oats XI look likely to get their dream finish in this year's Rolex Sydney Hobart after all. Grant Wharington's former overall winner Skandia stole the limelight yesterday but this morning she trails Wild Oats XI by 15 nautical miles on approach to Tasman Island.
Barring mishap, Wild Oats XI's line honours domination of Australia's premier ocean classic looks set to be cemented with a record fourth line honours win in Hobart this morning.
Currently their ETA across the finish line off Battery Point is 9.30am.
Nor'westerlies are expected to build across Storm Bay with 30 knots offshore and there is plenty of wind in the Derwent River to give the expected flotilla of spectators a real chase as they escort the likely line honours winner Wild Oats XI to her place in history.
The leading handicap positions have remained fairly static overnight with Alan Whiteley's Melbourne TP52 Cougar II ahead of Bob Steel's sistership Quest and Geoff Ross' Reichel/Pugh 55 Yendys.
This morning, Yendys' navigator Will Oxley reported interesting times and close racing.
"Cougar II is in sight behind, Loki is to weather and ahead a few miles. The wind is getting pretty light," said Oxley.
"The boat is in great shape so far with no sail damage yet!
"We are up for a big 12-15 hours and a tilt at this one. To try and have a better handicap we have run with only four spinnakers and so there have been a few nervous times but excellent helming has so far kept us out of trouble."
---
2100hrs, 27 DECEMBER 2008
The shark factor enters the Rolex Sydney Hobart equation

Wild Oats XI has confirmed that it hit a two-metre long shark at 6.40 pm tonight while sailing at about 20 knots east of Schouten Island on Tasmania's east coast and while engaged in a tense match race with the other maxi in the Rolex Sydney-Hobart race fleet,Grant Wharington's Skandia.
The impact was so great that the shark bounced off Wild Oats Xl's forward rudder and wrapped itself around the aft rudder. The boat has two rudders to improve steering and loss of leeway caused by the canting keel on the boat.
Co-navigator Ian "Fresh" Burns said the crew had to stop the boat, adjust the sails so that the maxi sailed backwards; and the shark was able to shake itself free and swam away. Wild Oats then reconfigured its sails and resumed hostilities with Skandia.
A short time ago, Skandia had resumed the lead in their duel and was 1.7 nautical miles ahead as they closed in on Tasman Island, the next turning point of the race, about 90 miles ahead of them.
Although they are both on race record time, the forecast at Tasman is for a light easterly tonight with a north-westerly not expected to fill in before about 4 am. That makes the 7.40 am local time race record tantalising.
Up until the shark incident, Wild Oats XI had been making solid gains in fresh reaching conditions, according to Burns.
"We have at stages reached up to 28-29 knots and have passed Skandia. This has pepped the crew up, but it is still likely to be a long night," said Burns.
Wild Oats Xl is going for a record fourth successive line honours win in the 628 nm race.

---