HOW FARDJAGET?
OR REFLECTIONS FROM LIZARD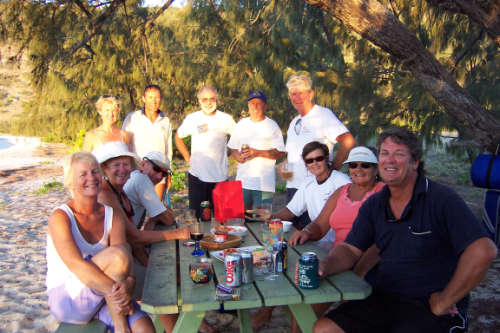 TCP's thanks to Vessel Tryphena for the letter below which captures the essence of "Passage People".
And thanks to the all in the photo for LIVING IT!
From left to right on Melbourne Cup day, Fern of Kenchega, Barbara and Paul of Duality, Jan and Eric of SeaDuction, Peter of Tryphena. Alan of Paul Mitchell, Stuart and Nannette of Truest Passion, Dot of Paul Mitchell, Pete of Kenchega and biggest thanks to Shannon of Tryphena who is not in the photo as she was busy taking it and who organised getting it to us.
We arrived at Lizard Island in time for the October full moon. This naturally meant some howling on the beach with other cruisers. As you would expect, howling always leads somewhere… and this occasion was no exception… Everything is perfect. You're on a lovely, rather remote, tropical island, the 2m resident croc hasn't been seen for a while (and you're hopeful it will stay that way), the breeze is gentle, the sky is clear, the company is outstanding. You forget all those stormy days and rolling anchorages (well, those of us in monos forget …) and sailing seems like the freest and liberating existence you could hope for. You're ready to snorkel, swim, walk and laze the days away in the company of friends in paradise. Oops. Reality check! Enter an email from TCP alerting us to the proposed MSQ regulations that would add layers of regulation, examinations and fees to boating in Queensland. Time to change into our political lobbyist hats. Oh gawd, we all moan to the shining moon, a little voice saying, "Ignore it". But you know you can't. You know you mustn't. OK, you sigh, changing into Action Mode. Snorkeling, diving, swimming, picnics, walking…all the things you've been dreaming about for months as you journeyed north to Lizard, have to wait a few more days. Glue yourself to the MSQ website (on one of the few boats that actually had Internet), get some details and send in our responses before 2 Nov. Just what you'd expect to be doing at Lizard Island. NOT!! But that's what the cruisers did.
Finally, the reason you've come can be realized. The talk over sundowners often settles on "how far did ya'get?" People tell their stories to an appreciative audience. We ooh and ah in all the right places without any prompting. The only thing that's missing is the campfire…but hey, it's pretty hot up there anyway! We managed to get together a sweep for Melbourne Cup Day…cleverly downloading the horses from 2003 and trying to listen in real time with a radio with flat batteries! (I guess we used up all our organizational reserves dealing with MSQ!) Not to be dissuaded by these small details, we decided on a "lucky dip" to decide the winners. Needless to say, there was much merriment throughout as we pondered the comedy of errors!
Being on the water brings an opportunity to meet people you probably wouldn't get a chance to if you stayed in the suburbs. People with all kinds of boats, all kinds of incomes, the full range of political views, neighbour or overseas visitor (if they're not in jail for breaking the 96 hour Customs rule…) are the "multicultural" fabric of the high seas. Although few admit it, yachties tend to measure their worth by how far they've travelled, the way landlubbers measure their worth by their income and the merc in the garage.
Yet the common thread in every story is always the people met, not the places seen or the distance travelled. The good times remembered and cherished are when you're with good company, wherever you are on the coast or in the world.
I guess you'd have to say it's not about distance travelled (or Mercs for that matter), it's about people. Not much else really matters at the end of the day.
by Shannon of SY Tryphena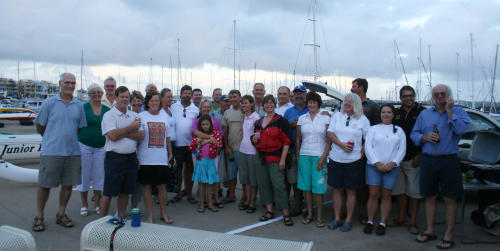 It was Mike and Lyndel of Montage that alerted us to this newer part of the Hervey Bay Boat Club. A Cruising Yacht Squadron for the boaties that like the social aspects of a regatta without too much round the buoys work. Hervey Bay is the perfect venue for such a thing as overnight anchoring with a group on Fraser Island or up the Mary or a run to Tin Can and more are right out of the harbour. It's about keeping good company and having a beaut sail. And speaking of good company, even with clouds covering the sky and wind to blow dogs off chains, a meeting at the car park with beers and snags was well attended. I talked to people at this meeting that came from as far as Wisconsin US to down the street.
So congrats to the club and the key individuals for putting such a cruiser friendly group together. In the Wide Bay area and want to join? Drop an email to club secretary, Keith Hinks at hbbc_yacht.sqn@bigpond.com