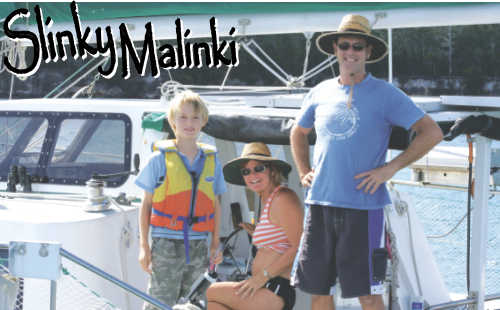 Tom, Chrissy and young lad Jake liveaboard their Hitchhiker Cat. Tom used to build houses but loves boats and found a way to make it pay. He works for Streamline Marine in Urangan, builder of many well known cruising boats like the Oram 44C, "Extra Chilli". But when the particular project he is working on is finished, they bugger off north. Last year seven months worth. Being culturally deprived I had to ask what the name meant. My kids are to old for me to have known about the popular children's books featuring the cat, "Slinky Malinki". Seriously, I always love to see a family boat. I think kids raised on the water have a big advantage in life and the parents deserve respect for the gift.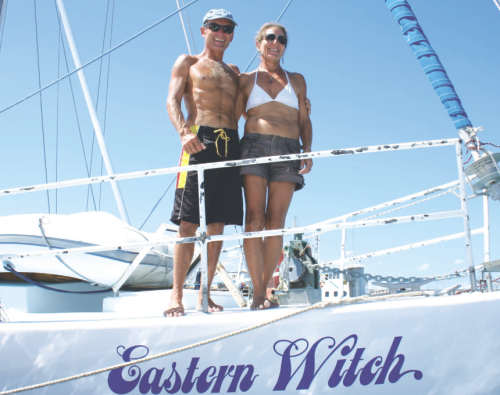 This was a boat I remembered from Bowen but new owners, George and Sue had done a big refit and many miles since then. We began to talk old times and it turned out that they were at Percy Island When Andrew Martin was there for his last visit as reported in TCP # 11. Their recollection of events was spot on to what was reported to TCP by George Mayer, island caretaker at the time. (see TCP web site, The "Percy Island Saga") It's a small world this yachting community! It's good to see there are still energetic people out there fixing up old boats and doing it.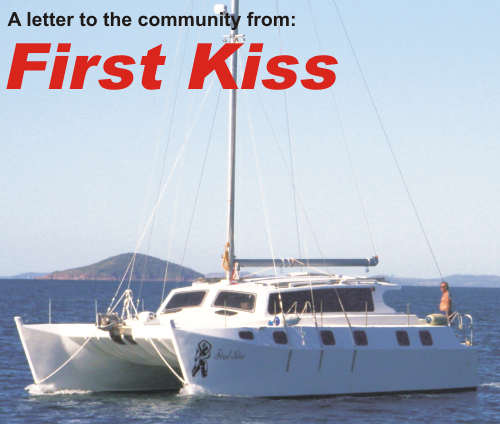 Dear Coastal Passage,
I am writing to your publication to provide a public and heartfelt thank you to all of the people who provided assistance to my vessel "First Kiss" during the incident several months ago, when the barge crane "Groper" capsized in Mackay Marina.
Annette, the ever present smiling face around the marina and proprietor of Boutique Marine, along with Graeme off "Fatima", were instrumental in initially sealing holes in the hull which undoubtedly saved the vessel. Todd, Peter and Jonno, the "hardstand boys" did a great job getting a large centrifugal pump aboard, and removing her to the hardstand. Brad and staff, for draining the hull once on the hard. Lorraine Fitzsimons for notifying me of the incident and Fred for the numerous times he has assisted me, both before and after the incident. I am sure that there are more people who deserve thanks that I am unaware of, you also have my gratitude.
After months on the hard and a fine repair job by John Stickland and Brendan, "First Kiss" finally left the harbour last week for the first time since her delivery voyage to Mackay some six months ago. In company with "Brampton Lights", an enjoyable few days out at the islands was had. Thanks to the efforts of those previously mentioned, and the "unknown others", I can look forward to many more such voyages.
It is gratifying that in this age of lifestyles that are all hustle and bustle, and "faceless" people concerned with nothing but their own agendas, people of the cruising community have maintained the ideals that much of society seems to have lost to some extent nowadays…. Concern for others…. Willingness to assist others in times of need
…. And the ability to offer a sincere smile and a warm "hello, how are you" to a person they don't know…….. I for one consider myself fortunate to be surrounded by such people.
Once again my heartfelt thanks to all…..
Regards,
Rod Pearce "First Kiss"