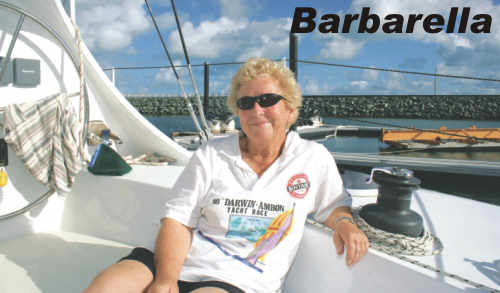 Pat Mathieu first fell in love with sailing when she was 5 years old and her dad would take to the harbour in Sydney to watch the skiffs race. Dad liked a punt! First chance came in PNG where she worked for the gov for a while. She picked up a little gaff rigged Mirror to sail. When the family moved to Townsville the son got a 125 and mum was on the trapeze. Since then she has crewed in the T'ville-PNG/Coral Sea Classic, Hamo, Darwin Ambon and more. I caught her on her first "arm chair" cruise while helping her friends Lucinda and Mal deliver their fabulous new (to them) Schionning Cat Barbarella north from the GC. She had tried a circumnavigation before but the skipper turned out to be a nutter and she jumped ship. I asked her if she found another offer from a good boat with a competent skipper, would she try it again.... "With a good skipper? Yes, I would go."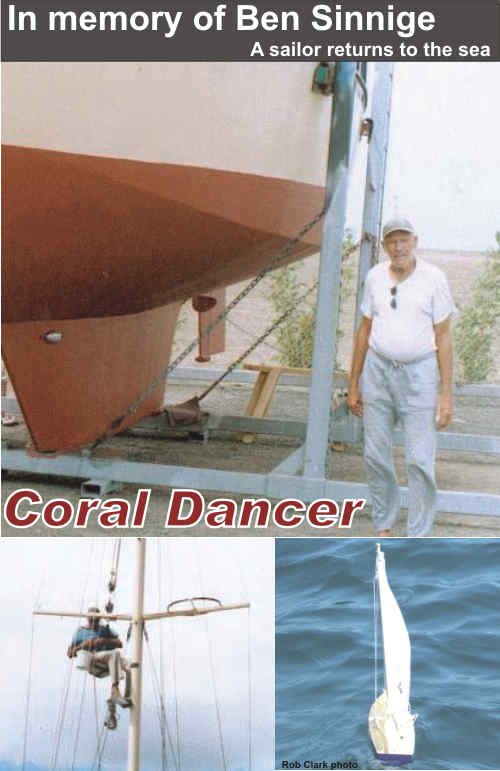 To murmurs of 'Goodbye Ben,' a miniature yacht sailed away from MV Peggy Anne, watched by a group of friends gathered to scatter the ashes of 81 year old Bernardus Sinnige at sea.
A single man who sometimes said he had few friends, Ben may have been surprised how many visited him in hospital, a fine example of the boating community caring for its own. One couple, John and Kay Dempster of MV Voss, travelled from Sydney. Sunday, September 10 saw a dozen people board the power cat for Ben's final farewell. Dutch sea shanties wafted through the air as Peggy Anne left Burnett Heads. Rob Clark launched the 30cm sailboat (supplied by John and Kay Dempster) that Rob had inscribed with Ben's name and life dates. It sailed away as Sandy Hartnett of Midtown Marina lowered into the water a floral tribute from Ben's brothers. Ben, skipper of the 36 foot sloop Coral Dancer, passed away in Bundaberg Base Hospital on September 3 after battling an aggressive cancer. In recent years he had spent most of his time in Gladstone and Bundaberg's Midtown Marina. At 80 he was still hauling himself aloft to paint the mast, and most would remember him armed with a paintbrush, maintaining his beloved vessel. After serving with Dutch forces in Indonesia in the 1940's, Ben migrated to New Zealand. There he became a respected building tradesman and qualified as a welder. Ben caught the sailing bug and after selling his trailer sailer and real estate interests, built Coral Dancer, a steel Breekveldt (Dutch design similar to a Van de Stadt). Twenty-four years ago, Ben got a crew together and crossed the Tasman. He ultimately imported Coral Dancer and cruised Australian waters.
By Elaine Kleiss, SY K-Sera