Story & Photos by Julie and Cameron Pocknee, SY "Dream Weaver l"
By way of a quick recap, 'Dream Weaver 1', a 12m Roberts Spray, departed Mackay in July 2006 to tour the north Australian coastline. Following a stormy wet season spent in Darwin, we again threw off the berth ropes to cruise the famous and remote Kimberley coastline in early June this year.
The longest passage you have to make in the Kimberley region when departing Darwin is the first one, traversing the notorious Bonaparte Gulf from east to west. Many cruisers opt to cross the 250 nautical miles directly from Darwin to either the Berkeley or King George Rivers. We had plenty of time though and were intent on seeing as much coastline as possible, so tracked south down the NT's west coast before sailing (or more to the point motor/sailed as the forecast 15-20kt sou easter petered out to 5-10kts) the 90 miles to Lacrosse Island, at the base of the Bonaparte Gulf - wow, we're in the Kimberley!
Sheer sandstone cliffs which step up from the sea onto spinifex covered plateaus are everywhere in the Kimberley. They are a truly magnificent spectacle, and even more so where they form massive gorges around rivers like the King George and the Berkeley. These two rivers are the 'icon' rivers on the eastern Kimberley coastline and are not to be missed. Once over the shallow sandy entrance bars, these rivers provide sanctuary from the predominant winter sou easterlies. You can spend days if not weeks exploring these lengthy but narrow deepwater gorge systems where towering waterfalls discharge enormous volumes of freshwater for most of the year.
Freshwater is abundant in the Kimberley although many of the smaller creeks dry toward the end of the dry season. We were seldom more than a week between watering opportunities, which is more than can be said for other provisions. Unless you plan to have your champagne and caviar brought in by float plane, you need to budget and stock carefully before leaving.
We were prepared for a 5 month stay and cleared the Darwin supermarkets of many of their tinned goodies before departure. After about a month, you would kill for a tomato or any fresh greenery! On the other hand, fish and oysters are abundant once you get the hang of local conditions and we lost count of how many luckless mangrove jack disappeared via the galley. Fuel is available at a number of locations but come with long pockets as it costs up to $2.50/l for diesel and $3/l for ULP, and they don't believe in credit cards or cheques. Our vote goes to the friendly gents at McGowans Island Beach (private camping park) in Napier Broome Bay where both diesel and ULP are available off the beach at a budget $2/l.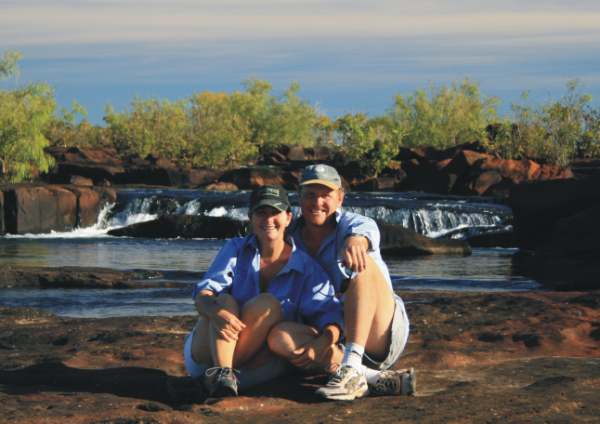 Story and Photos by Julie and Cameron of Dream Weaver