Bluer Pastures... Doing it Good... and doing it Hard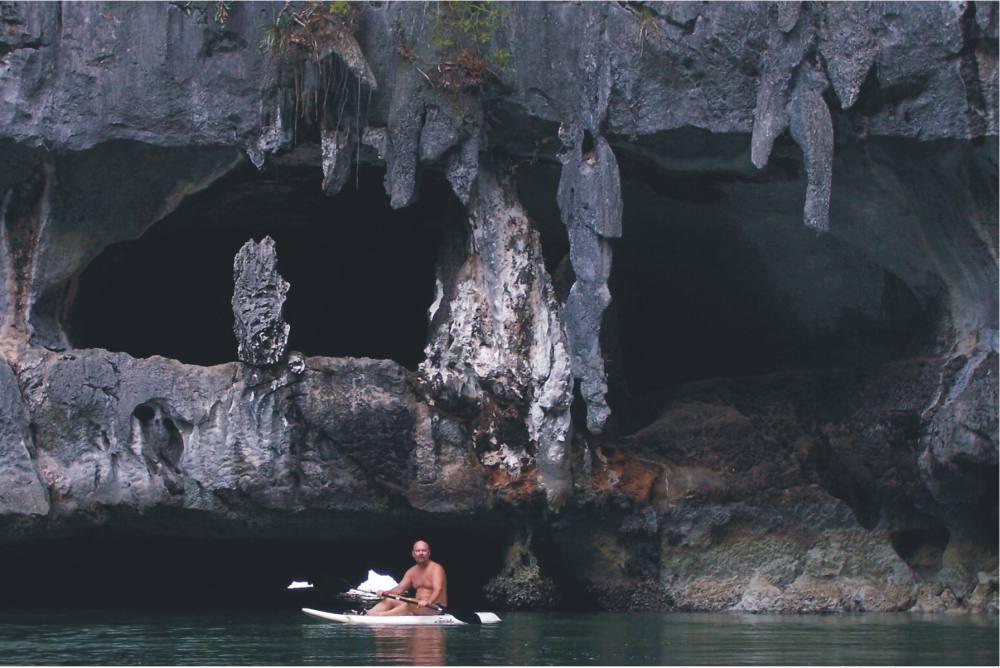 Quoll II cruising the Andaman Sea by Trish Hawkins
Doing it Easy...

Our home from home this year has been the Andaman Sea, flitting between Langkawi , an island of NW Malaysia and Phuket, SW Thailand. Both islands are about the size of Singapore and there are hundreds of smaller islands between the two. Lying between Latitudes 6 and 8, the climate has been divine both in the wet and the dry seasons for us sun lovers.
Telaga Harbour has been our chief refuge in Langkawi. Our favourite spot here is a fantastic waterfall nearby, known as The 7 Wells. Here Tim and I and the boys have had loads of fun playing on nature's own waterslide and ending up in a whirlpool at the bottom, clambouring over rocks to get out and up again. Macaque monkeys are in abundance in Lang. and are usually enjoying the morning sun having a bite to eat on the power lines as you walk to the w'fall.. One day I saw them playing in one of the pools, swinging from overhanging trees and pushing each other in. Just like us, really. Not so common is the spectacled monkey. There is one tree along the way where we often see them. The big white rings around the eyes give them their name. They're very timid and disappear if you hang around too long. Lang. also has prolific bird life. Sea Eagles, Brahminy kites, hornbills abound and not so common is a beautiful golden orange kingfisher. Phuket birdlife is almost non existent around the coast except for the Bare Breasted Booby Bird, prolific on the beaches of the SE corner!
There are more freshwater playgrounds that have kept us amused, a science centre for the boys, a cable car, many wonderful eateries and of course the beaches of the anchorage.

Sailing. That is a hobby we used to have. I seem to recall averaging 10 knots in the SE trades, cruising up the Q coast. These days it's motoring at 5 knots. The sail is there for decoration and to give you something to panic about when you see a thunderstorm blowing across the hills into Phang Nga Bay at a rapid rate of knots! The wet season has produced a bit more breeze and we had a few good sailing days. When the distance between anchorages isn't far and you have to run the motor to charge the batteries to run the fridge and the computer, motoring isn't so bad. The other joy is fish traps and nets. Sailing at 10 knots, keeping a good watch and avoiding the 'invisible' flags around the fishing nets is a trap best avoided.

Phang Nga Bay and its islands, hongs, caves and rock ledge overhangs continue to enthrall us. (See photo top of page) Taking a torch and clambouring through a musty bat cave and reaching a hong or cavern at the end is a thrill. My favourite is the hong at Rai Lai Beach at Krabi on the mainland side of Phang Nga Bay. It's a challenging climb up the hill and down the inside. In a local magazine the vegetation was compared to something out of Jurassic Park. There are woven webs and ropes to help you climb down some of the steeper sections. Needless to say that the boys are down the bottom of each climb before I've gingerly moved my feet from the first foothold and asked for directions to the next.
We've made a very good friend in Phuket. On the road between Kata and Nai Harn is Charlie's Bar. Charlie is a gibbon who was rescued from 'slavery' as a wee fella. Now he roams freely on a property and comes into the bar for happy hour. He's not allowed drinks I don't know whether that's in the interests of his health or the drinks of the patrons. The attraction here is that Charlie does what he wants to do. Sometimes he gives you a cuddle like a long lost friend or he sits on the bar in front of you while you preen him. It may be your turn to be his best friend or someone else's. The boys have had the occasional bite when they've pushed the friendship too far.

It's a very low key bar. Drinks are cheap, unlike any of the other bars for miles around. There is no entrance fee or performance, and you make a donation for a bunch of bananas to feed the elephants. The boys have been out on the elephants a few times but walking behind them on a short jungle trek is also good fun.

One day, Matthew almost didn't stop when the elephant stopped to do a dropping. I grabbed him by the scruff of the neck. He looked up and watched it all come out, one step in front of him. Great entertainment!


There's always a new adventure and a new playground waiting for us somewhere. Right now the season has swung and it's time to move round the other side to the beaches once more.

Next... Doing it Hard!

Slipping our catamaran, Quoll II, at Fremantle was simple. Someone on the grapevine had a jinker we could borrow. We hitched it behind my little Subaru and out she came. We stayed on board, the kids went home to grandparents. Everything was easy. We've slipped the boat three times since, twice at Gladstone, and just recently at Phuket. Avoiding the cost of a lift out was a crucial factor in finding a haul out facility. The creature comforts available in the yard and nearby, came a close second. Any degree of comfort is desirable when living aboard on the hardstand. Limited shower and toilet facilities exist at most yards but it is nice to escape the puddles of antifoul, dust and grime and really get cleaned up. The extensive parklands and BBQ's at Gladstone allows one to totally escape the boat yard and enjoy the evening meal ( A few thousand mosquitoes and sandflies also enjoyed their evening meal) Hauling out at Boat Lagoon, Phuket just doesn't cater for the plebs amongst us who live aboard and do our own work.

Here in Phuket, we have three boat yards to choose from. Again with creature comforts being a key factor to consider after price, we chose Boat Lagoon. It has a swimming pool, ideal for occupying the two boys and stopping them from 'floating boats' or riding their scooters through puddles of antifouling and other choice debris freshly scraped off the hulls of world travelled hulls. Boat Lagoon is a Luxury Resort as well as a boat yard. Hence the reason the boat yard is alongside manicured gardens a large lagoon swimming pool and high rise holiday units.

Having lived aboard whenever we've done maintenance or antifouling to Quoll, I'm well aware that hardstand ablution facilities are not quite 5 star. I'm also used to having to pick up the sander or sandpaper and doing it myself. So what's the problem? One problem is jealousy!

Thou shalt not covet thy neighbour's goods. I think that's the rule I'm breaking. 'Everyone else' is employing workmen (known as little brown people in not so politically correct circles) to refit the boat, antifoul and maybe add a little more stainless. To add insult to injury, they've walked away from their boat, flown abroad on holiday, or rented a unit for the duration! Even worse, those living in units on the premises could be seen strolling to the pool (keeping an eye on my children, I hope) taking long leisurely lunches or hiring cars to go wandering around the island. Meanwhile, we're doing it hot and hard. Oh to be part of the idle rich!

But the problem doesn't stop there. I just happened to acquire a dose of "Thai Tummy", a close cousin of Bali Belly. There is never a convenient time to get a dose of the runs, but working on the hard and having to run a few hundred metres to the toilet makes it a particularly inconvenient problem. Even more of a problem is that I did not always get a toilet when I got there. The Thai workmen didn't acknowledge that the first toilet they came to was the female ablution facility. On several occasions a male was occupying my toilet when I needed it!

BYO
But my problems didn't stop there either. The yard toilets are squat toilets, known amongst more athletic circles as starting blocks. You have to squat on the sides of the toilet bowl to do your business. It's also necessary to make sure you're positioned correctly or there's a chance there'll be more mess outside than in! Speaking of messes, toilet paper is a luxury found only in the resort where the real toilets are. At the yard toilets, there is a tub of water and a plastic container to sluice yourself. Yuk! Standing in a squat position on a wet toilet bowl, trying to clean yourself with a bowl of water is a skill I have no desire to master. BYO takes on a whole new meaning. Forget the grog, bring your own toilet paper!

LOCATION, LOCATION!
Sometimes, in a fit of desperation, I ran the gauntlet and tried to make it across the yard, through the units, round the pool and downstairs to the pool toilets. At the best of times this requires speeds akin to the 4 minute mile. With a Thai tummy, I was ready to train for the Olympics!
Between starting blocks and resorts and fly away friends, the crew of Quoll have been undergoing hard times on the hardstand at Phuket.

When I grow up, I want to be part of the idle rich. I don't want to do it hard.